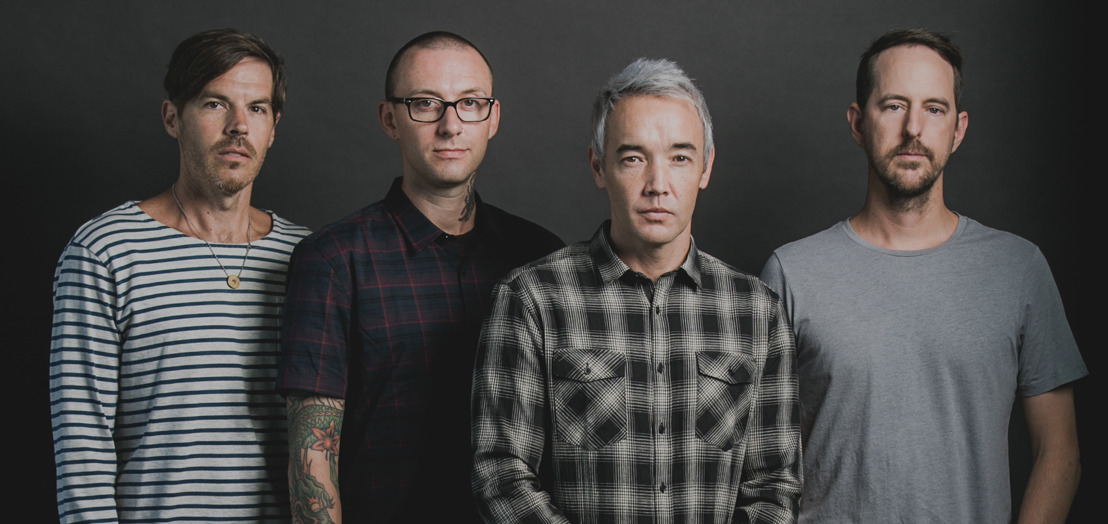 Hoobastank Drummer Chris Hesse Praises Sonarworks Reference 4 Used While Mixing Band's Latest LP
Chris Hesse relies on Sonarworks Reference 4 studio calibration software for everything he mixes at his home studio, including the new Hoobastank track, aptly titled "True Believer"
Monday, September 17, 2018 — Los Angeles, September 17, 2018 – During the making of Hoobastank's latest album Push Pull drummer Chris Hesse had many roles on the album, from drumming, to editing tracks, tuning vocals, or programming synths, Hesse — along with bandmates Doug Robb, Dan Estrin and Jesse Charland — spent over a year in the studio, hard at work on their sixth studio release since the band's self-titled debut. For the latest album, Hesse also had a hand in post-production and mixed a portion of the album in his home studio. And Hesse says anytime he's mixing a record, he uses Sonarworks Reference 4 studio calibration software.
Hesse became a founding member of Hoobastank in 1994, after moving from Northern to Southern California just a few months before and answering a "drummer wanted" ad that Robb and Estrin had posted in the classifieds. Since the band's major-label debut in 2001, Hoobastank has sold over 10 million albums worldwide, with their 2003 sophomore effort, The Reason, accounting for 2.3 million sales in the U.S. alone.

From Drummer to Engineer
Hoobastank's success has afforded Hesse a nearly 25-year career in music, first as a touring musician, and more recently as a studio engineer, both in the studio with Hoobastank and at his home studio in Southern California, where he regularly mixes records for both indie-label and international bands.
But before using Sonarworks Reference 4, Hesse said he always had trouble getting the mix in his studio to translate perfectly to a standard stereo system. He said that, even though he had high-end monitors in his home studio, "and they have great low end, in my room that low end just disappears, which is typical for many home studios. So I would have to be really careful, and I'd go out to my car, check mixes, and make sure that the subs weren't just ruining everything."
After the band began to work on Push Pull with producer Matt Wallace in 2016, Hesse mentioned some of his home studio monitoring issues, and Wallace put Hesse in touch with the guys at Sonarworks — who happened to be in nearby Annaheim, California, for the NAMM show — and they stopped by Hesse's home studio. First they installed the Sonarworks Reference 4 software plugin to Hesse's DAW, then performed a series of step-by-step speaker measurements using a reference mic and Hesse's monitors.

Setting the Curve
Sonarworks Reference 4 software guides the user through the process of speaker measurements in which the user stands at various locations throughout the room. At each location, the reference mic records sounds played through the monitors, and Reference 4 automatically locates the microphone in the room. Reference 4 then combines the information recorded at each the various points throughout the room, and compiles the data into a sonic image of the room. Once the software is set up in the user's DAW, Reference 4 provides the listener with calibrated sound for studio reference monitoring.
Once Sonarworks Reference 4 was all set up on Hesse's DAW, he gave it a test run. He said, "The second I hit the bypass button on it, my jaw hit the floor," when he realized how much worse the mix sounded without running Reference 4. But when he turned it back on, "It was unbelievable," Hesse said. "All the low end that I'd been missing previously was instantly there, even the highs were different. It was just like everything immediately sounded right, and from then on it became extraordinarily easy to mix and to have a reference."

A "True Believer"
And, since he started using Sonarworks Reference 4, he hasn't had to go out to his car stereo to check the mix, even when he changes something in the studio. "I've gotten different speakers," Hesse said, "And I've set up Reference 4 twice on my own since. They made it pretty easy." Before he used Reference 4, Hesse attempted speaker measurements with other calibration software, but he could never get it right. "With Reference 4, you kind of can't mess it up."
For a taste of what Sonarworks Reference 4 studio calibration software sounds like on a Hoobastank record mixed by Chris Hesse, listeners can check out the fifth track on Push Pull, "True Believer" — fitting of what you might call Hesse since he's started using Reference 4. "Sonarworks Reference 4 is the most important thing that I've bought for the studio, maybe ever, because it made such a drastic difference in my mixing," Hesse said. "It translated phenomenally onto the new record."
While Hoobastank is gearing up for a U.S. tour in October, Hesse continues to do session work as a mixing engineer at his home studio, using Sonarworks Reference 4 software on every recording he mixes. "There will not be a session that I don't use it," he said.

For more information about Sonarworks Reference 4, please visit www.sonarworks.com/reference.

About Sonarworks
Sonarworks is a Europe-based audio software development company specializing in acoustic calibration and DAW plugins. Accurate sound is our passion. The company was founded in 2013 and entered the pro audio market in 2015. Sonarworks software is relied upon by many Grammy winning artists and engineers around the world.
Steve Bailey Public Relations, Hummingbird Media
Jeff Touzeau Hummingbird Media