Koen Heldens On Using Modern Mixing Tools to Add Warmth and Vitality
Mix engineer behind multi-platinum selling hits sculpts radio-ready mixes with Sonarworks Reference 4
Los Angeles, CA, March 2, 2020 — Dutch-born mix engineer Koen Heldens has added his signature sonic warmth to international multi-platinum American Music Award and Billboard Music Award winning tracks, such as XXXTentacion's No. 1 single "SAD!" and has worked on records with sales totaling over 50 million worldwide and streamed over 10 billion times around the globe. With a keen ear for getting the groove just right, setting the rhythm section as his sonic foundation and building each mix up from there, Heldens has lent his sonic sensibilities to tracks by artists like Swae Lee, Kanye West and Lil Wayne, among others, and continues to be a perennial favorite among the up-and-coming urban scene with artists like YBN Nahmir and Jasiah, both of whose debut LPs Heldens recently mixed.
And whenever Heldens sits down to a mixing session, he trusts Sonarworks Reference 4 to flatten the punchy responsiveness imparted to the rhythm section by even the highest-quality studio monitors, helping him sculpt the EQ to maximize the sonic warmth of the low end and shaping tomorrow's hit songs into radio-ready mixes.
Building up from the sonic foundation
​One of Helden's guiding principles as a mix engineer is to be sensitive to the stylistic voice of the music's creators. "I always request audio stems, instead of session files, to minimize the technical issues during a mix," Heldens said. "Artists and producers — especially in urban music, because a majority of the material is programmed ― work very meticulously on the way they want the music to sound. So, they give me a pretty decent rough mix as a blueprint, and I don't want to reinvent what they have already created. I would rather just have them send me everything that they've done already and build from there.
"I always start off with the beat," Heldens continued, "because the main thing that catches the listener is the part of the music that makes them move. Of course, when I listen to a mix, I'll have all the instruments playing at once; but my primary focus is on the drum section. First, I make sure the rhythm hits as hard as it possibly can — then I start to focus on the bass, figuring out how it grooves with the drums, which to me is the backbone of every song, especially in the genres that I work in."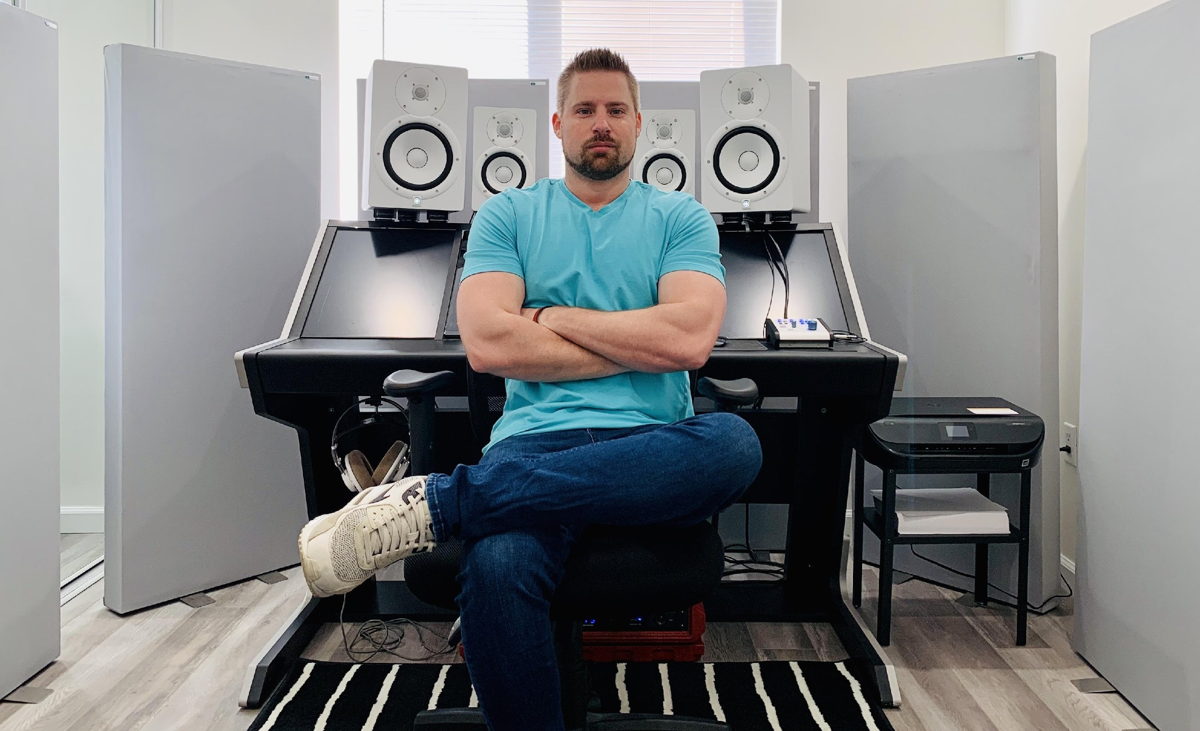 "Modern tools for modern music"
​Heldens mixes in Pro Tools — and, having started his mixing career nearly a decade-and-a-half ago, began using Yamaha NS10s for studio monitoring, but has since switched to a combination of HS8 and HS5 powered studio monitors."Young producers and artists that create 'modern' styles of music use modern tools" he explained. "In the mixing realm, if you are using old technology, the mix won't have the elements of the modern sound the artists are looking for."
For plugins he uses an SSL 4000 E channel-strip, a brown knob-type EQ for the rhythm section for a slightly broader set of punchier tones, an additional EQ showing spectrum analysis, as well as a master rebalancing software.
In addition to his other plugins, Heldens uses Sonarworks Reference 4 studio calibration software to ensure a flattened low-end response from his studio monitors. "When you look at the specs from manufacturers, they'll always show you a graph indicating the speakers have a fairly flat frequency response," he said. "However, in my opinion, most of them are tuned to give a tight, punchy response, rather than flat.
"But, the beautiful thing with Reference 4 is that when you calibrate the speakers to have that flat response, it's incredible how much more detail you can hear in the low end, and how much better you can not only control the low end, but also enhance the low end, especially the low mids — where needed — which imparts a fullness and warmth to the record."
For more information about Koen Heldens, please visit: www.mixedbykoenheldens.com
For more information about Sonarworks Reference 4, please visit www.sonarworks.com/reference.
About Sonarworks
​Sonarworks began in 2012 when two music lovers met a scientist — a perfect storm of acoustic know-how and passion for good sound soon became the software that's currently transforming sound monitoring. Sonarworks' flagship professional audio product, Reference 4 software, removes unwanted coloration and delivers the same accurate studio reference sound on all speakers and headphones. The software has since been endorsed by many Grammy-award winning mixing and mastering engineers and has won several industry awards and accolades.
---

Steve Bailey Public Relations, Hummingbird Media, Inc.

Jeff Touzeau Public Relations, Hummingbird Media, Inc.