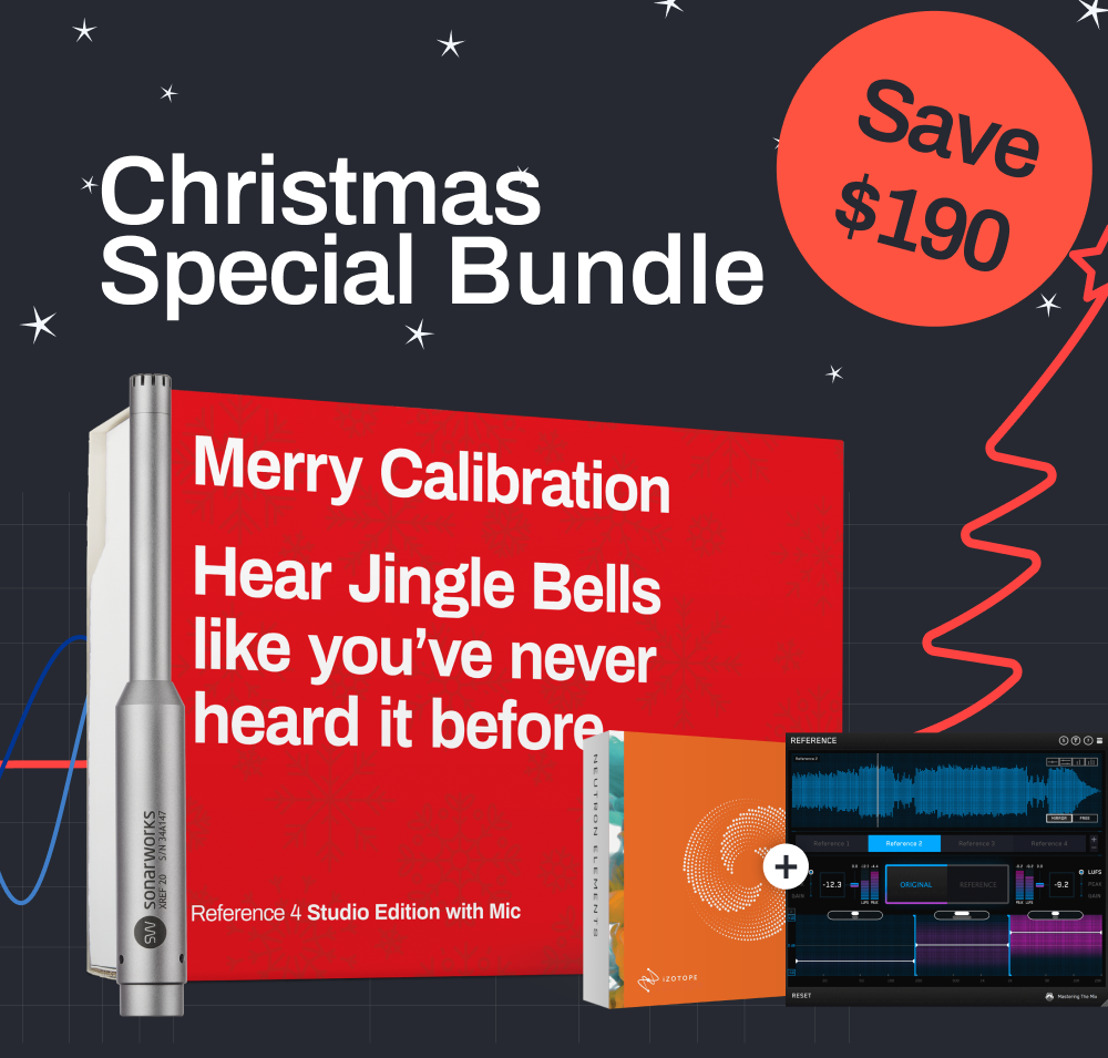 The Gift of The Perfect Mix: Sonarworks Announces Reference 4 Christmas Special Bundle
Reference 4 Studio Edition, iZotope Neutron Elements, and Mastering the Mix Reference for only $299
Riga, Latvia -- December 12, 2019 – Just in time for the holiday season, European audio software developers Sonarworks have announced the perfect gift for music creators. The Sonarworks Christmas Special Bundle contains a trio of essential mixing and mastering tools designed to streamline any engineer's workflow. The bundle includes Reference 4 Studio Edition as well as a calibrated measurement microphone, iZotope Neutron Elements, and Mastering the Mix Reference. The bundle is available from Sonarworks' webstore until December 31st for $299, a savings of $190.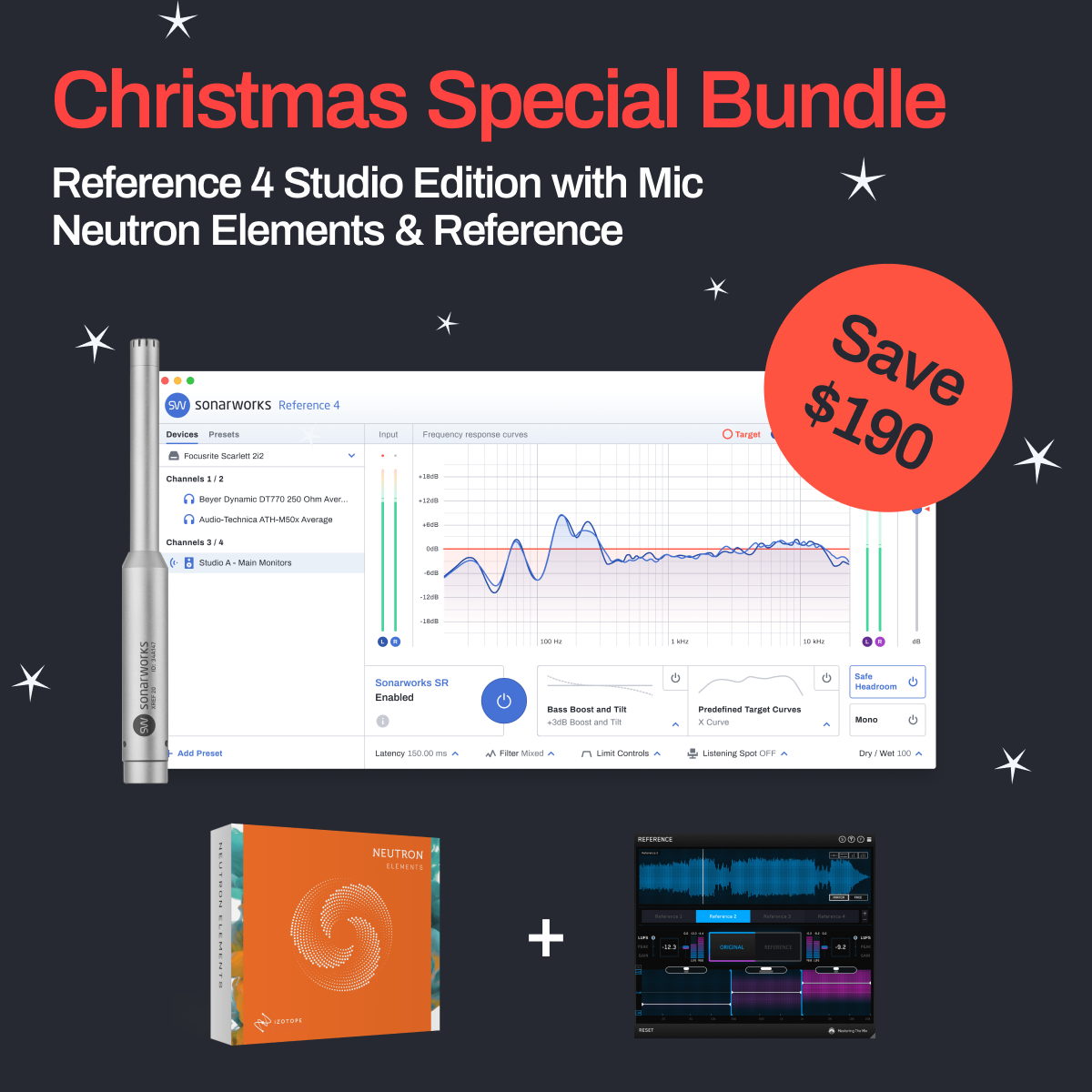 "We're pleased to partner with iZotope and Mastering the Mix to offer this holiday bundle for music creators," said Sonarworks Co-Founder Martins Popelis. "Combined these tools ensure that you can trust what they are hearing in any space through both monitors and headphones and optimize the mixing and mastering process for the best results. All this streamlining allows you to get back to what matters most: making great music."
Reference 4 Studio Edition is the latest iteration of Sonarworks' best-in-class audio calibration software, which has been embraced by Grammy-winning engineers like Rik Simpson, MarioSo DeJesus, and Ariel Borujow. The software and included measurement microphone give creators the ability to accurately measure and calibrate their rooms for trust-worthy sound in any location, as well as improved mix translation. The recent 4.4 update added support for multiple output device presets as well as additional supported headphone models for added versatility.
iZotope Neutron Elements optimizes the mix process using iZotope's game-changing machine learning to auto-detect and analyze different input audio, offering customized processing advice to the user for improved mixing. The plugin's four processors, EQ, Exciter, Compressor, and Transient Shaper add clarity and focus to any production.
Mastering the Mix Reference gives music creators the ability to compare their productions with the tracks they are referencing against, providing detailed insight and allowing creators to get even closer to their favorite productions. Users can loop up to 20 reference tracks and use tools like Level Line and Stereo Spread to match the loudness and width of their favorite tracks.
To purchase Sonarworks' Christmas Special Bundle, please click here.
About Sonarworks
​Sonarworks began in 2012 when two music lovers met a scientist — a perfect storm of acoustic know-how and passion for good sound soon became the software that's currently transforming sound monitoring. Sonarworks' flagship professional audio product, Reference 4 software, removes unwanted coloration and delivers the same accurate studio reference sound on all speakers and headphones. The software has since been endorsed by many Grammy-award winning mixing and mastering engineers and has won several industry awards and accolades.

Steve Bailey Public Relations, Hummingbird Media, Inc.

Jeff Touzeau Public Relations, Hummingbird Media, Inc.