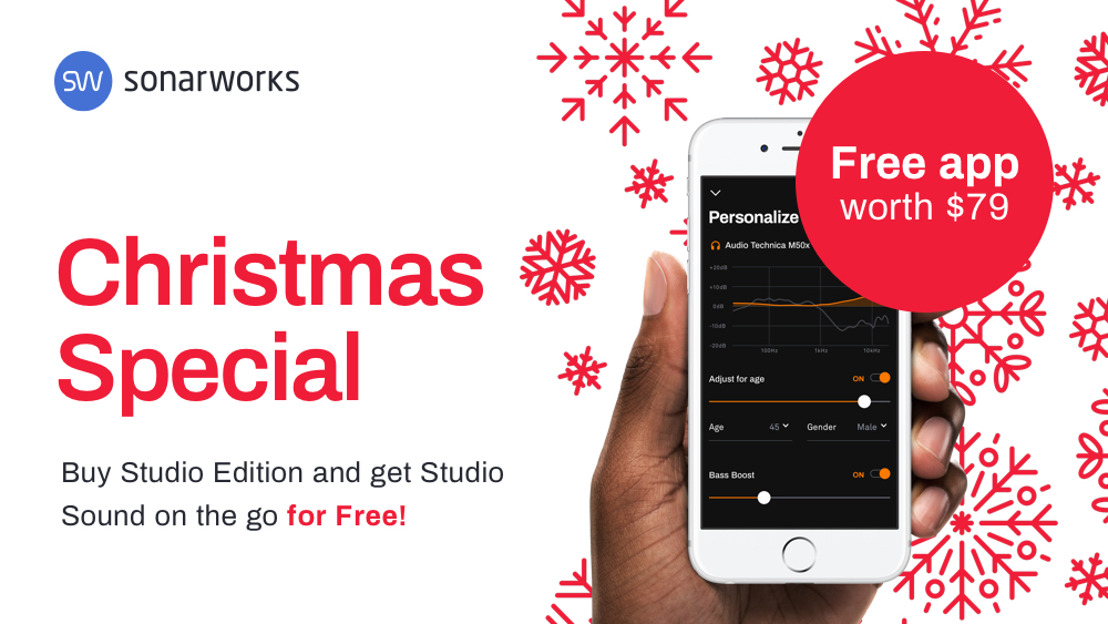 'Tis the Season for Great Sound: Sonarworks Holiday Special Bundles True-Fi Lifetime License with Reference 4
Two-For-One Holiday Deal from Sonarworks is the Perfect Gift for Music Lovers and Creators
Thursday, December 6, 2018 — Riga, Latvia – With holiday festivities just around the corner, Sonarworks offers the perfect gift for music lovers and creators. The Sonarworks Christmas Special will be running from December 1st until December 31st, and bundles the company's best-in-class studio calibration software Reference 4 Studio Edition with Mic with a lifetime license to the desktop and mobile versions consumer app True-Fi.
The new app, which officially launches in Spring of 2019, brings high-quality headphone correction to iOS and Android devices and allows listeners to enjoy their favorite holiday tunes — free of unwanted sonic coloration. The special package grants listeners early access and retails for just $299 — a $79 savings.
Reference 4 Studio Edition, which includes a calibrated measurement microphone, is the gift that keeps on giving for engineers looking for consistently balanced sound. The award winning studio software runs on both Mac and PC, and removes unwanted sound coloration from monitors and headphones.
Meantime, the new True-Fi mobile app calibrates headphones running on both Android and iOS, allowing listeners to experience pristine clarity on the go. The special bundle gives listeners an end-to-end audio solution, whether they are creating music or just listening for pleasure.
For more information about Sonarworks' Christmas Special, please visit https://try.sonarworks.com/christmasspecial/
Steve Bailey Public Relations, Hummingbird Media
Jeff Touzeau Public Relations, Hummingbird Media, Inc.